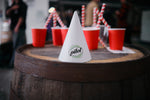 Drinklusion
Our belief that beer is for everyone led us to set up Drinklusion, a fundraising initiative that supports organisations that promote inclusivity across a variety of forms. For every can sold, 2p goes into the Drinklusion fund, and this money is then distributed across our partners.
Drinklusion is something that will grow with our business, as it's imperative to us to use our platform to help effect positive change.
At the moment we are working with the following organisations:
Bikes for Refugees 
Bikes for Refugees is a social inclusivity project that helps New Scots adapt to Scottish life by providing them with a free refurbished bike. A bike allows them freedom to explore their new home, gives them a mode of transportation and helps them to connect with people and forge friendships.
Keen cyclists ourselves, when we found out about B4R, we donated them some of our old bikes. Our financial donations help towards the day to day running of the organisation as well as buying parts for fixing up donated bikes.
Stay up Late 
Stay Up Late is a grassroots charity that promotes the rights of people with learning disabilities to live the lifestyle of their choosing - they provide care and support for adults with disabilities outside of normal hours, allowing them to stay up late, and experience moments that so many people take for granted.
We just loved everything about Stay up Late from the moment we learned about them, so when we started Drinklusion, they were an absolute shoe-in to become one of our beneficiaries.
Leith Theatre 
Leith Theatre is an independently run venture: a place for everyone to be inspired, empowered and to celebrate. Leith Theatre Trust are preserving this iconic and cherished building to provide a unique cultural gem in the heart of Leith; one which delivers a rich and diverse program of entertainment from live music to cutting edge theatre, comedy and film as well as providing a home for community events, large-scale festivals and celebrations for folks near and far.
Long before Drinklusion was a thing, Pilot used to help out at Leith Theatre by selling our beer at their fundraising events and donating the takings. One look at the beautiful old theatre in the heart of Leith was enough for us to know we want to do our bit to ensure it gets restored to the former glory it so deserves.
EHFM 
EHFM is an online community radio station, broadcasting from Edinburgh's Summerhall. Founded in 2018 as a digital platform for local creative souls to express themselves. Since then, they've built up a loving community of presenters and volunteers, who allow them to broadcast twenty-four hours a day, seven days a week. 
EHFM is a vital community resource that brings people together through a love of diverse and inclusive music from a multitude of cultures. We are delighted to be supporting them with donations from Drinklusion.